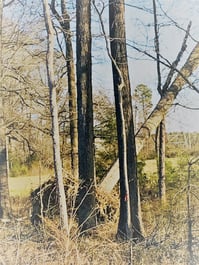 This past year, record breaking rainfall was recorded for most of North Carolina. There's no doubt about it, the Carolina soil is saturated! According to Spectrum News Central, Raleigh-Durham, Fayetteville, Asheville, and Wilmington all set precipitation records for the year. Rain is typically welcomed in this Southern state, but when does too much wet weather become a stressor to tree health?
In the last few months, our Arborist Representatives have seen a surplus of uprooted trees across Charlotte, Concord, Raleigh-Durham and the Greensboro area. Homeowners and property owners are seeing firsthand the cause and effect of weather playing into the overall health of local trees. Across North Carolina we've seen uprooted white oaks, pines, and maples just to name a few.
If all this wet weather has you concerned your trees are vulnerable to falling, below are some signs to keep an eye out for:
Tree Environment Has the environment where your tree is located changed recently? If there has been a noticeable change to how a tree is standing, this could be an indicator of something going on below the surface.
Roots Just below the surface, a system of roots work diligently together for each and every tree. Take notice if roots at trunk base have been disturbed. Sidewalks, construction, and/or heavy traffic can all play a factor in tree decline. Look closely, the base of a tree can expose a ton of information. Have you noticed mushrooms at base of the tree? Seeing mushrooms at tree's base can sometimes be a sign of root decay. To note, even though we can't see root problems below the surface, often times the issues below are reflected above in a tree's canopy.
Tree Crown The crown of a tree refers to a plant's above ground parts. Check the top of tree, otherwise known as the crown, for overall health. Take notice if certain limbs have died, if there are more limbs on one side compared to the other, or leaves are not present summer through fall.

Soil Type

North Carolina, specifically the Piedmont Region, is known for Cecil soil, a deep, well-drained soil found on the slopes and ridges of the Piedmont Region. This type of soil is a plus in protecting your trees from adverse wind and rain. However, as seen across the state, uprooting can occur even in the best of soil.