This past hurricane and winter storm season, we saw numerous trees down on buildings, cars, access roads, and power lines. We also saw just how expensive and damaging natural disasters can be. Natural disasters can put extreme strain on our budgets, create liability issues, and disrupt everyday operations. What if we could plan and budget for natural disasters before it's too late? We can.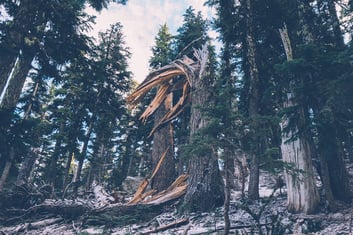 Emerald Ash Borer(EAB) is a pest and a natural disaster to trees. We know now, EAB has been identified in many cities and towns in North Carolina including Charlotte and Raleigh - Durham. It has killed tens of millions of trees since its discovery in Michigan in 2002. Our municipalities plan to protect a few high value and historic trees with insecticides. The rest will be cut down ahead of the infestation.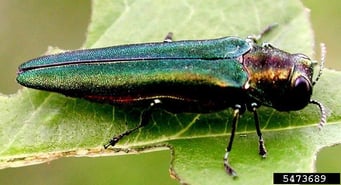 If we do not combat against the borer, the spread of EAB is inevitable. Once a tree becomes infested, treatment is no longer an option. Brittle and considered extremely dangerous, an infected tree can quickly become a hazard and liability. Once treatment is no longer a possibility, tree removal is the only option. but can be very costly to the homeowner. Infected ash tree removals are considered costly, typically requiring expensive equipment like a crane to ensure safety.

The below snapshot documents just how quickly trees fail after EAB infestation. These Ash trees were identified about 5 miles north of Durham, in Sept 2017. These trees were green with about 50% of the crown showing infestation. By Spring 2017 they were dead and 7 months later were in the process of complete structural failure.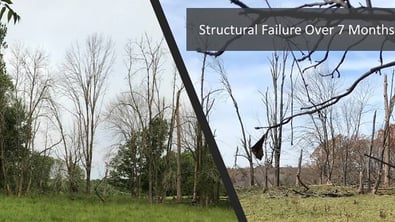 Here at Carolina Tree Care, we care about the canopies of the Carolinas and want to ensure your Ash is protected. Our Arborist consultation offers a free opportunity to document all ash trees on your property and plan accordingly by noting costs of protection vs. removal. By planning ahead, budgets can be adjusted and unnecessary expenses avoided.
Let us help you formulate a plan to ensure your property is protected.

The Emerald Army is here, but so are we.