This spring, be the envy of your neighborhood by keeping your yard looking beautiful! Now is the best time to get your yard in shape before spring arrives. Check out 4 easy steps to transition your landscape from winter to spring.
4 Ways To Transition Your Landscape From Winter To Spring
Time to apply new mulch
Examine overall landscape health
Routinely prune and trim trees
Schedule your spring deep root fertilization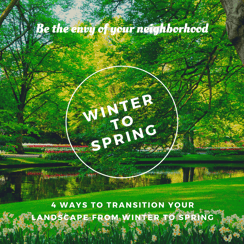 1. Apply Mulch.
Apply mulch to base of trees and plants which acts as an extra layer of protection from cold or hot weather. Check out our 4 genius mulching tricks for more information on the mulching process.
2. Examine Overall Landscape Health.
When annually examining tree and plant health, you're investing wisely in your property. According to the USDA Forest Service, studies have shown that real estate agents and home buyers assign between 10% and 23% of the value of a residence to the trees on the property.
3. Routinely Prune & Trim Trees.
Routinely prune and trim trees around your home. Properly maintained trees will also be more effective at fighting off problems on their own. By trimming away dead and high-risk limbs, your trees will become more attractive and valuable. Trimming also provides your yard with color, shade, and more.
4. Schedule Your Spring Deep Root Fertilization Treatment.
Keep your yard looking beautiful all spring long! Along with water and sunlight, nutrient rich fertilizer is critical in maintaining overall health and strength of trees. Routinely fertilizing trees in spring and fall adds additional nourishment back into the soil after a cold winter and hot summer.
For more tips on keeping your landscape in pristine condition this spring, schedule an ArborWISE consultation today.