It's hard to completely relax in your yard if you're afraid the neighbors might be peeking in on you. Fortunately, there are plenty of evergreen trees and shrubs that can obscure the view into your Charlotte, NC property year-round!
We've put together a list of five evergreen trees and shrubs you can add to your property if you want to increase privacy and reduce noise pollution, too.

1. Nellie Stevens holly
These plants are drought, air pollution, and heat tolerant. Plus, they produce red berries in the fall that last throughout the winter, which will give your yard some much needed color during the colder months. These plants do well in full sun to partial shade. At maturity, they can reach heights of 15-25 feet and widths of 8-15 feet.
2. False holly
This plant is a great option if you want privacy and a sweet scent wafting through your yard. Although its flowers are mostly hidden, they're highly aromatic. Plant your false holly in partial shade to full sun, and it should grow about 15 feet high and 5-10 feet wide. It will tolerate pollution, drought, and heat.
3. Mirror leaf viburnum
If you're looking for tough shrubs that can withstand drought-like conditions, go with viburnums. They can grow 10-12 feet high and 8-9 feet wide. Their small white flowers, which develop into bright red berries in the fall, will pop against their dark green foliage.
4. Emerald arborvitae
An option for narrow spaces is the emerald arborvitae. They can grow 15 feet tall but only 3-4 feet wide. Arborvitaes do well in moist soil and full sun, and emerald arborvitaes are no different. They're also tolerant of air pollution.
5. Southern magnolia
Grace the border of your property with these medium-sized trees, and you'll also get large fragrant flowers in the summer months. They'll look beautiful against the trees' dark green leaves. Southern magnolias grow to be 60-80 feet tall and 20-40 feet wide. Plant them in spots that get partial shade, and they'll do fine.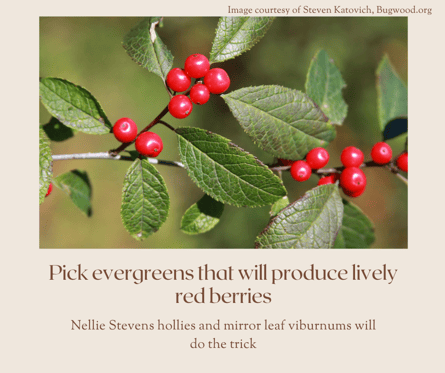 To keep your evergreens healthy and thriving, you'll want to make sure that...
1. They don't grow out of control or into power lines, and
2. Pests and/or diseases don't shorten their life spans.
That's why it's important to partner with a plant health care specialist who can set your plants up with the right preventative treatments and maintenance services.
Talk to us today to learn about the plant health care treatments that can keep your evergreens going strong for years to come.
---
Like what you just read?
Then you'll love this: 5 Shade Trees to Add to Your Landscape This Fall