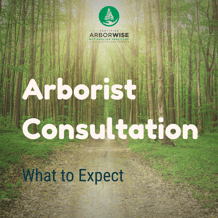 For clients interested in the long-term management of their property and trees, including owners of historic properties, we create detailed three- and five-year roadmaps that include long-range budgeting and planning projections based on the life-cycle of their trees, disease diagnoses, and associated maintenance requirements. This allows you to plan ahead if you're presenting to your homeowners' association or board of directors—or if you're a sole property owner who's budget-minded. Here at Carolina Tree Care we've made a tree care process that is simple and easy in only seven steps!
Call (704-788-8733) or email (link at bottom of page) to schedule your free estimate .

Meet with your neighborhood arborist representative to discuss your tree care needs.

Look out for your estimate! Your estimate will arrive in your inbox within 48 hours of meeting onsite.

Reply to the email directly or call your Arborist to accept proposal.

We will schedule your tree work and give you a call before any work begins.

Our safety-certified crews will perform a job done right. (That's our promise to you!)

After the job has been completed, we will email and mail a hard copy of your invoice. We accept check and all major credit cards for payment.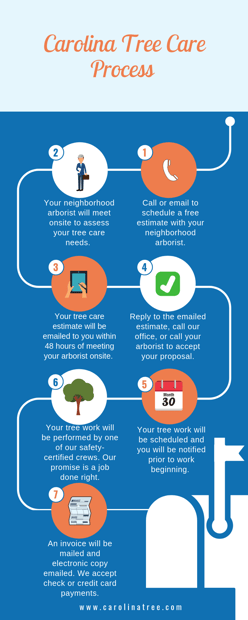 Carolina Tree Care ISA Certified Arborists can provide all types of arbor consulting and evaluations that you may require.
Our consulting services include:
Tree Value Appraisals
Tree Inventories with Physical Tags or GIS Mapping
Decay Detection and Measurement
Hazard Assessments
Long Term Budgetary Management Plans
A consultation with your areas Arborist representative is a time for you to discuss all your tree care needs. We want to hear what you're looking for when it comes to an overall property vision, tree hazards, and/or tree issues you have dealt with in the past. We thank you for the opportunity to assess your tree and plant care needs. We are here for you. If you would like to schedule a free estimate, do not wait. We have made the process simple and easy! Schedule today.