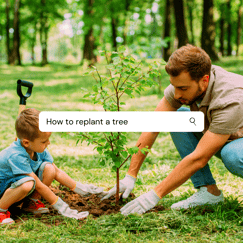 We see a lot of tree and shrub issues across all parts of North Carolina, but the issue we see the most of is improper planting.
Trees and shrubs cannot survive or thrive in their environment if improperly planted. If trees or shrubs have been planted incorrectly, not to worry, you can replant those trees and shrubs to grow healthy and strong. We will share how to spot trees suffering from being improperly planted, what to do next, and steps on how to properly plant a tree.

Trees will let you know through their appearance how well they are doing. The appearance of an improperly planted tree will continue to show signs of decline well after planting has occurred. A declining appearance in trees can show up as wilting, browning leaves, and dry branches. You can also look at how the tree is growing. If tree growth looks humped over or not growing as tall as other trees, take notice, this could be an indicator improper planting has occurred.
If a tree in your yard has been improperly planted, this does occur frequently, so not to worry you are not alone. We are here to help walk you through the next steps in getting your tree planted and growing properly!
Bad Tree Planting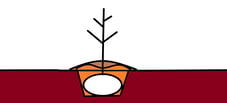 Next steps: carefully remove the tree or plant from the ground. The tools you'll need for this replanting project include:
Shovel
Pruning clippers
Fresh wood chips
To replant, you'll first need to dig the tree or shrub out of the ground. Note: use extra caution when digging around the root system. Once the tree is above ground, look at the root system. If you see any roots bundled around in a circle (known as girdling roots,) take this opportunity to clip those roots free from being bound. Lay the tree or shrub to the side while you dig the new planting spot.
Good Tree Planting: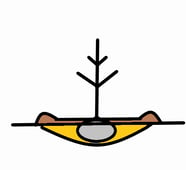 How to properly plant trees & shrubs:
Dig a shallow hole & plant tree high with highest roots towards the top of the soil.
Gently and thoroughly water the tree or shrub.
Place about 3 inches of mulch (we recommend: tree chips) from the drip line (the end of the tree canopy inward.)
Regularly checking the health of your trees and shrubs is imperative. If you have noticed signs that your trees and shrubs are struggling, replanting may be necessary. If you'd like one of our arborists to assess your tree and shrub health, we're happy to take a look! Click the link below for an ArborWISE consultation. Don't wait to schedule your appointment today.