Stump grinding is something we are asked a lot of questions about! Whether you previously had a tree removed and just a stump left or looking to have a tree and stump removed, we can help you through the tree removal and stump grinding process. Depending on access to the tree stump we typically use a stump grinder to remove tree stumps. An excavator may be needed if access to the tree stump is limited. When you speak to your areas arborist representative they will go over what piece of equipment will be best for the job. Stump grinding pricing will vary depending on stump size and what equipment is used,
Buyer beware: The prices for tree removal quoted by your local mom-and-pop tree service may not include the cost of stump grinding or stump removal. Stump grinding is typically factored at $2.5–$3 per inch but may be less expensive if the stump is rotting and easier to grind.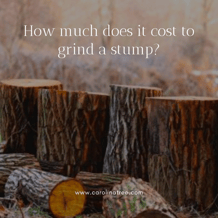 We want to help you through the estimation process. Following are some average prices to provide high-level guidance. As always, our professional arborists are more than happy to provide you with a free estimate for your specific tree(s).
1″ to 12″ diameter: $225
12″ to 24″ diameter: $525
24″ to 36″ diameter: $550
36″ to 48″ diameter: $575
60″+ diameter: $600+
There's good news for the DIY folks out there, Carolina Tree Care is available for stump grinding services only. Depending on the size and depth of your tree stump, it may be more economical (not to mention safer and easier!) than renting a stump grinding machine for the day. Once a stump is ground we typically back fill the stump with the grindings the stump produces.
For more pricing information check out Cost for Tree Services in North Carolina.
To schedule a free Arborist Consultation, click link below!