A tree risk assessment can provide insight into the condition of your tree
Recent winter storms may have you more concerned about your trees than usual. Did the last storm weaken your trees? Are your trees stable enough to withstand the next one?
A tree risk assessment can give you some clarity.
Winter is a great time to inspect and evaluate your trees for risk. Read on to learn more about the value of tree risk assessments.
What is a tree risk assessment?
A tree risk assessment is a way to gather information about your tree and its surroundings to determine the likelihood and consequences of failure in regards to any targets (nearby people or property) you're concerned about.
Except for a tree that has no targets, there's no such thing as zero risk when it comes to trees — some trees could be more likely to fail than others depending on certain conditions, but in reality, all trees have a chance of failure.
It's important to remember that although a tree risk assessment can tell you a lot about your tree, it can't guarantee your tree's safety. It's always possible for a strong storm to knock down a tree than an arborist determined had a low risk of failure — we all know how unpredictable Mother Nature can be.
That being said, a tree risk assessment is still a good way to find out what's generally going on with your tree.
Who should perform your tree risk assessment?
Technically, anyone can conduct a tree risk assessment, but that doesn't mean anyone should. It's best to go with a professional who's qualified and appropriately insured to get the job done.
Not only do we have the proper insurance, but our plant health care manager is an ISA-certified arborist with a tree risk assessment qualification (TRAQ). That means our plant health care manager is trained to use the ISA's standardized, systematic process for performing tree risk assessments.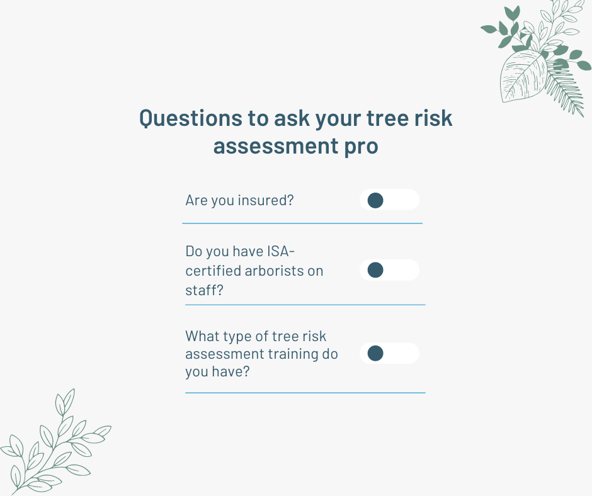 Why would you need a tree risk assessment?
Maybe you just bought a home in the Charlotte, NC area, and you want to know the condition of the trees you've inherited. Maybe you've noticed signs like leaning or recent uplift of the roots close to the trunk that often indicate a tree is close to failure. Or maybe a construction project damaged your tree.
If you ever find yourself wondering about the integrity of your tree, a tree risk assessment can answer a lot of your questions.
The tree risk assessment levels
There are three risk assessment levels in the TRAQ methodology. How will you know which level your tree needs? Most of the time, we'll start with a Level 1 assessment so that we can get a good understanding of your tree, as well as your needs and expectations.
Once that's established, we can figure out if a Level 1 assessment is enough or if a more advanced assessment is needed.
Here's a look into what each level involves:
Level 1: This is a limited visual assessment of a single tree or a few trees. It can be done during a consultation, or we can drive by your property to take a quick look at your trees. Since this level of assessment is brief, only obvious red flags will be detected.
Level 2: This involves a 360-degree visual evaluation of your tree. We'll assess the crown, trunk, root flare, above-ground roots, and site conditions that could affect specific targets. We'll use a few simple tools like probes to get more information about your tree.
Level 3: This is the most extensive type of assessment. We'll do everything we did in Level 2, plus use specialized tools and/or techniques to gather even more information about your tree. This can include aerial inspections, below-ground examinations, and core resistance drilling to detect and characterize internal decay.

What happens after a tree risk assessment?
Once we know more about your tree, we can propose solutions to improve its health and reduce the risk of failure.
We understand that risk tolerance varies among different people — some may want to remove a risky tree ASAP while others are OK with lowering the risk to an acceptable level using mitigation techniques. Risk mitigation could include plant health care treatments, installing a supplemental support system, or pruning. We'll work with you to figure out what's best.
Is there a tree on your property that's been worrying you lately? Do you want to find out how to prolong the life of a decades-old tree that you love? Start with a tree risk assessment. Request a consultation today!
---
Like what you just read?
Then you'll love this: Will Your Trees Make it Through Hurricane Season?