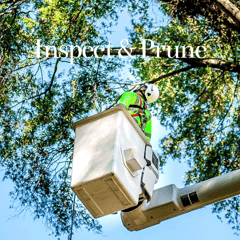 During winter, when deciduous trees shed their leaves, it's the best time to see the architecture and branch structure of a tree. This makes winter the perfect time for tree inspection and structural pruning. And there is less pressure in the winter from tree pests and pathogens which allows us to do our jobs more effectively.
In winter, these so called "naked trees" (wait, I thought this was a family-friendly tree company!) present an excellent opportunity for us to inspect for anatomical and architectural defects, tree decay and malformed unions—and work with you to prevent problems.
With that said, at Carolina Tree Care, we try not to prune too early. We don't want to expose any roots especially when a tree is dormant and cannot heal until it begins growing again.
The 8 Different Types of Pruning:
Restoration Pruning

:

Selective pruning to improve the structure, form, and appearance of trees that have been severely headed, vandalized, or damaged
Vista Pruning: Selective pruning to allow a specific view, usually by creating view "windows" through the tree's crown.
Crown Raising & Tree Pruning: Selective pruning to provide vertical clearance.
Crown Thinning & Tree Trimming: Selective pruning to reduce density of live branches, usually by removing entire branches.
Crown Cleaning & Pruning: Selective pruning to remove one or more of the following parts: dead, diseased, and/or broken branches. Usually, all cleaning will be of branches 1" in diameter or greater throughout the entire crown.
Hazard Reduction Tree Pruning: Selective pruning to prevent dangerous situations and associated damage from occurring such as felled trees during storms.
Crown Reduction Tree Pruning: Selective pruning to decrease height and/or spread by removing specified branches.

Young Tree Pruning & Trimming: Selective pruning to train young trees to maintain structural integrity.
The winter season is here, and now is a great time to schedule a FREE tree inspection and prune any dead wood from your trees. Click the link below to our Winter Tree & Pest Manual where you can schedule a free tree inspection with your neighborhood's arborist representative. We look forward to caring for your property!