Updated January 7, 2022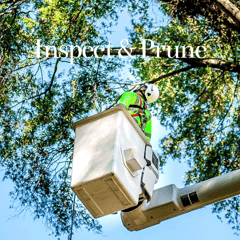 Once winter hits the Charlotte, NC area, "naked trees" (Don't worry — this is a family-friendly tree company! By "naked," we mean barren.) present an excellent opportunity for us to inspect issues and work with you to solve and prevent problems. It's much easier to check out the architecture and branch structure of a deciduous tree when all the leaves are gone. There's also less pressure from tree pests and diseases. All that makes winter the perfect time for tree inspection and pruning!
5 Pruning Objectives
When it comes to pruning, it's important to have a goal in mind before making a single cut. There are five common reasons why you would need to prune your tree:
Structural pruning improves a tree's structure. We'll establish a dominant central stem, or leader, by removing any competing or codominant stems. We can also establish the lowest permanent branches and/or establish proper scaffold branch spacing.
Risk mitigation pruning reduces the likelihood of branch failure, which could cause injury and/or property damage. We'll get rid of any dead, dying, diseased, and/or deformed branches.
Clearance pruning reduces a tree's interference with people, activities, infrastructure, buildings, traffic, lines-of-sight, desired views, or the health and growth of other plants.
Restoration pruning improves a tree's structure, form, and/or appearance. This type of pruning is usually done after improper pruning, storm damage, and/or some other form of damage.
Size management pruning (previously called crown reduction pruning) reduces a tree's overall size while still maintaining its natural shape and form.
Winter is here, and now is a great time to get your trees inspected and pruned. Click the button below to get to our Winter Tree & Pest Manual, where you can schedule a tree inspection with your neighborhood's arborist representative.
We look forward to caring for your property!
---
Like what you just read?
Then you'll love this: Uh-Oh, Your Evergreen is Losing its Needles. Should You Be Worried?