Did you know that about half of all electrocution fatalities are from indirect contact? And that even a streetlamp circuit or phone line can have enough energy running through it to cause a fatality?
Those facts may not be top of mind for you, but they have to be for tree care professionals who work around power lines on a regular basis.
That's why continuous training, like our recent EHAT, is so important!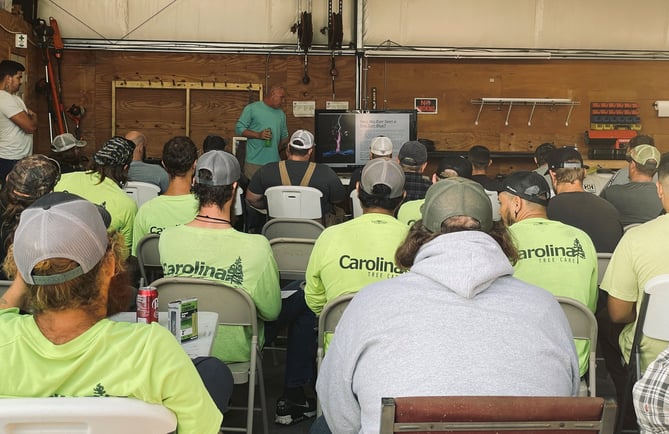 Carolina Tree Care crew members, along with Lewis Tree Service crew members from Union Power, Randolph Electric, the City of Statesville, and the City of Monroe, gathered at our Concord, NC location on Sept. 16 for an annual Electrical Hazard Awareness Training (EHAT). They spent the day brushing up on the best practices when it comes to working around electrical hazards.
With general foreman Rusty Russ leading discussions, crew members talked about electrical terminology, named the different parts of power lines, recalled minimum distance requirements, and learned about the differences between direct and indirect contact.
Crew members also answered quiz questions and heard first-person accounts from their peers about their experiences with electrical hazards.
EHAT is an essential training for the safety of our crews. Plus, it ensures we remain compliant with OSHA requirements.
According to the Tree Care Industry Association, "electricity causes about 15% of all fatalities in the tree care industry, making it the leading cause of worker fatalities." Crew members don't even have to touch a wire to get hurt. Things like tree branches and many of the tools tree care professionals use every day can act as conductors of electricity.
That's why Russ made it a point to emphasize the importance of situational awareness. As Russ reminded the group, it doesn't take much electricity for a fatality to occur, so it's crucial for our crews to be aware of their surroundings and keep an eye out for any electrical hazards.
Like what you just read?
Then you'll love this: Top 4 Indicators of Lightning Struck Trees
---