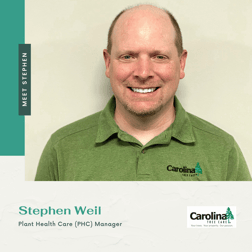 Charlotte, NC - Stephen Weil has joined Carolina Tree Care (CTC) as the new Plant Health Care (PHC) Manager. PHC is a proactive approach to monitoring and maintaining the health of trees, shrubs, and groundcover. Optimal results are achieved through preventive care for stress management, frequent monitoring, and early detection of problems, informed decision making, and integrated treatments that provide long-term solutions.
Stephen will be based in the Charlotte, NC area but will manage the North Carolina territory where his responsibilities will include establishing PHC departmental strategic objectives and direction, salesforce education, staffing, training, and operational execution. Prior to joining CTC, Stephen was the PHC Director for tree service in Asheville, NC where he developed their PHC program from the ground up over the course of several years.
Stephen has a B.S. in biological sciences from Michigan Technological University. He is an International Society of Arboriculture (ISA) Certified Arborist®. Stephen also holds the ISA Tree Risk Assessment Qualification (TRAQ), American Society of Consulting Arborists Tree and Plant Appraisal Qualification (TPAQ), and is a NC & SC pesticide applicator.
About Carolina Tree Care: At CTC, we live and breathe our tagline: Your trees. Your property. Our passion. CTC is 100% employee-owned, employs multiple ISA Certified Arborists®, and is fully accredited by the Tree Care Industry Association (TCIA). TCIA accreditation is a voluntary program that credentials companies that meet stringent criteria for professionalism, employee training, state and federal safety regulations, business ethics, and customer satisfaction. Under the process, businesses undergo an extensive review and a comprehensive audit of professional and business practices aimed at safeguarding consumers. Providing tree services safely is always our promise to you.
If you have a Plant Health Care question and/or just want to say hey to Stephen, Click the link below to email him directly!