A pole saw can come in handy for easy to reach limbs that need a quick trim, but knowing where to draw the line on DIY tree work can be a bit more complicated. We want you and your trees healthy and happy that's why we created a Do's and Don'ts list when it comes to do-it-yourself tree work!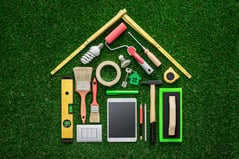 Do:
Mulch trees. Mulching trees properly aids water retention ensuring trees are kept cool and able to withstand hot, summer conditions.

Water trees regularly.

It's easy to see when those beautiful, blooming flowers in your yard need water, but don't forget about your trees. Trees need watering too!
Keep notice of dying or dead limbs. When limbs start dying or falling off your tree – this could be a key indicator something is going on with the overall health of the tree.
Keep track of pests or insects on trees. Pests and insects are not always bad for your trees – but can be. Keep an eye out for typical creepy crawlers and what would be considered not so typical.
Remove broken tree limbs if easily accessible by hand. If tree limbs are in arms reach for a pole saw we won't stop you from removing yourself. But please remember, protect your head and eyes from other branches that could pose as a falling hazard.
Don't:
Remove fallen or partially fallen limbs. Limbs that are partially fallen and hanging in other trees pose a serious hazard risk. Call in tree professionals for this job. They're trained on best practices when it comes to dangerous limb removal!
Use a ladder to deadwood limbs from trees. Ladder's are a definite no when it comes to tree or limb removal. If the only way to reach a limb is with a ladder – the limb is too high for DIY.
Spray for pests yourself using chemicals you've mixed together. A professional tree company knows exactly what chemicals are needed and how/when to apply. If your trees are experiencing pests/ insects in high volume, call in a certified arborist to see what's going on before applying chemicals.
We want to help you be successful in all your tree project endeavors! We know our list won't encompass every Do & Don't when it comes to DIY tree projects, but we hope it's a good start. If you have specific questions you'd like to ask an arborist before tackling, give us a call, we're here to help.