We know. We've heard all of the horror stories of sticker shock, too! "I just got a quote to take my trees down for $15,000. That's one semester of my child's college education."
If you're anything like us, you're probably searching the internet to find the lowest prices in Charlotte (or Greensboro or Raleigh Durham) for tree removal, tree trimming, or plant health care.
And you're probably coming up short because, quite honestly, it depends. Spoken like a true arbor consultant . . . So, much like taking a tree down, let's take approach this topic in small, manageable pieces.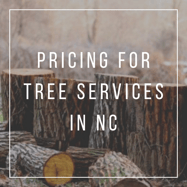 Click the link above to learn more about:
Typical tree removal cost
Why emergency tree removal is more expensive
Average cost to grind a stump
Cost of tree trimming, tree pruning, and plant health care
What factors affect the price of tree removal services
How to reduce the cost of your tree service
Make your appointment today and receive a free consultation.