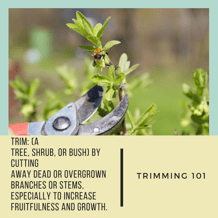 Temperatures are slowly transitioning from summer to fall. This time of year (fall) is optimal for trimming and pruning dead limbs and overgrowth. When it comes to maintaining tree health, our Charlotte arborists recommend trimming dead or overgrown branches regularly.
Throughout the years, we have seen a variety of reasons why residential trees are trimmed. Each reason is unique to the specific wishes and desired outcome of the homeowner. Our aim is to ensure wishes are honored and the desired outcome achieved when trimming trees. We find it important to take a customized approach to all trimming and pruning needs.
Every tree is different. Tree trimming should be too. Learn more about the different trimming and pruning options, below:
Restoration: This pruning style is for vandalized or damaged trees to improve structure, form, and appearance. If you're looking to restore past tree damage for aesthetic purposes this type of pruning could be best.
Vista Pruning: "Windows" in the tree's crown are created, opening to a specific view. Vista pruning is a great option to create more light openings in a backyard or looking to improve a view.
Crown Cleaning: All cleaning will be of branches 1" or greater throughout the entire crown to remove dead, diseased, and/or broken branches. Crown cleaning is great to do regularly to improve overall tree health.
Hazard Reduction Tree Pruning: Negate possible dangerous tree situations and associated damage before storms occur. Trees can become hazardous if not properly pruned. Trees or limbs surrounding a house or other structures should be routinely checked.
Crown Reduction Pruning: Decrease/ lower the overall height of tree through crown reduction. Crown reduction lowers height which in turns promotes a stronger trunk and health of tree.
Keep your trees pristine and aesthetically pleasing. Call or email today to set your trees up for regular tree trimming maintenance. Our Certified Arborists are standing by and looking forward to connecting with you today!