This summer, ArborWISE by Carolina Tree Care technicians headed to the North Carolina coast to care for St. James Plantation located in Southport, NC. The overall goal is to maintain healthy trees and soil throughout the community with an emphasis on pine tree protection.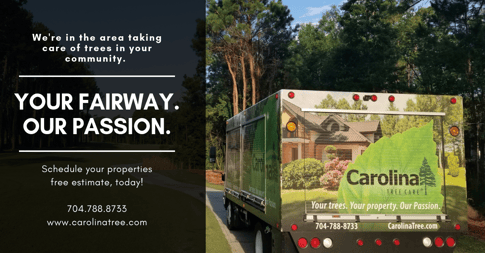 Through our ArborWISE by Carolina Tree Care program, we manage the health of your plants and trees and the conditions around them to ensure they're not vulnerable to disease. With over ten years of Plant Health Care (PHC) experience, our knowledgeable team provides a complete analysis of your specific tree and soil environments along with a comprehensive tree protection and monitoring plan.
Our Arborists' protocol is to first examine
Below are common trees and related pests we see throughout NC that are treated through the ArborWISE program.
Crepe myrtle trees

Japanese beetles and aphids can become an issue in the spring and summer months. However, treatment should start in early fall for the following spring and summer months.

Azaleas

Azaleas only bloom for a few weeks out of the year. Don't let Lace bugs attack those beautiful blooms. Want to learn more about your azaleas read more here
Red maple trees

Gloomy scale is easily spotted by the discolored marks it leaves on trees.
Willow trees and water oaks

Lecanium scale typically is found on water oaks and willow oaks and shows up as discolored bark.

Ash trees

The Emerald ash borer (EAB) is attacking ash trees across the Carolinas. Don't leave your ash trees unprepared for this pest.
Leland Cypress trees

Bagworm, seiridium canker, and box canker all show up in cypress trees as dying or brown needles. If your leland cypress is showing brown needles, a pest or drought could be the culprit,

Boxwood trees

Leaf miner and spider mites are small but can leave large amount of damage.

Camellia trees

Tea scale and cottony camellia scale is found heavily among camellia trees.
The health of your plants and trees is our top priority, We care to protect your plants and trees from common pests. If your trees and plants are experiencing a pest attack, we're here to help. To learn more, speak with one of our certified arborists, today!