If you love picking up a live Christmas tree to decorate your Concord, NC home for the holiday season, Fraser firs will be among your many options. Many Christmas tree farms and lots have them pre-cut and delivered from the mountains.
According to the Christmas Tree Association, 94% of all the trees grown in the state as Christmas trees are Fraser firs. Why are Fraser firs such a popular choice? Let's break it down.
Fraser firs were named after a Scottish botanist called John Fraser. He was known for exploring the Appalachian Mountains (the Fraser fir's natural habitat) in the late 1700s.
The Christmas Tree Association says that more than 58 million Fraser firs are grown in North Carolina to be specifically used as Christmas trees.
Fraser firs are no doubt a popular choice because they have that typical Christmas tree look and feel. They have:
A pyramid shape
A rich green color
Soft needles
A classic scent
Plus, their strong branches grow slightly upward, making them look neat and compact.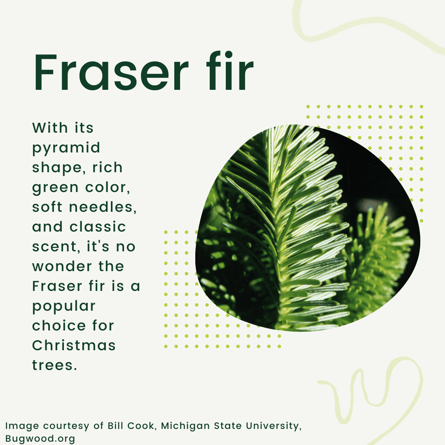 Another factor that makes Fraser firs a popular Christmas tree option is their ability to retain their needles throughout the season. In fact, according to studies done in the early '90s, when it comes to needle retention after being cut, Fraser firs surpass all other tree species except the Noble fir.
How do Fraser firs hold on to their needles for so long even after being cut down? It probably has to do with the mountainous habitat they grow in.
For one thing, the forests in the Appalachians get a lot of rainfall — over 80 inches per year. For another, the trees are enveloped by fog about 35% of the time.
The fog and wind up in the mountains could lead to moisture loss, but Fraser firs can close their stomates (leaf pores) to protect themselves. That's what makes their needles last as long as they do, even after the tree is cut — Fraser firs can close their stomates to retain moisture and preserve their needles.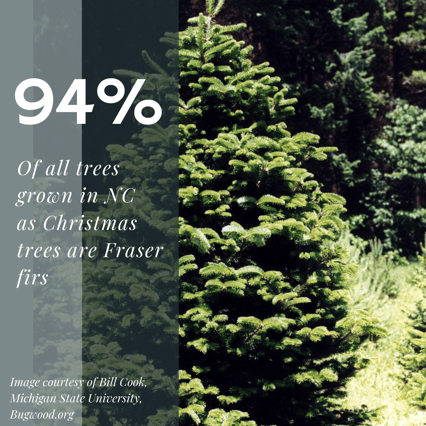 Fraser fir Christmas tree care
Your Fraser fir will be doing what it can to keep its needles for as long as possible, but what can you do to help? The NC State Extension recommends cutting about 1/2 inch straight across the base of the tree to start with. Then place the tree in a stand that will hold at least a gallon of water.
While you're keeping an eye on your indoor tree, who's watching out for your trees outside? The upcoming winter months are a great time to check on the structure of your trees and prune if necessary. Request a consultation today!
---
Like what you just read?
Then you'll love this: Top 10 Trees Found Across NC Yards