Carolina Tree Care has a new arborist representative covering the Concord, NC area — Collin Kaval!
Collin started his career with Carolina Tree Care in 2020 as a crew member. After earning an MBA in accounting from the University of Scranton, he spent several years as an external auditor. He was a senior financial analyst right before joining the Carolina Tree Care family.
What spurred the change? The realization that a typical desk job wasn't for him. Collin wanted to do something that would make more of a tangible impact on the community — something he could feel passionate about.
He always loved the outdoors and biology in general. He even picked up bonsai as a hobby. So, when an opportunity to join the tree care industry and work toward becoming a certified arborist presented itself, Collin couldn't pass it up.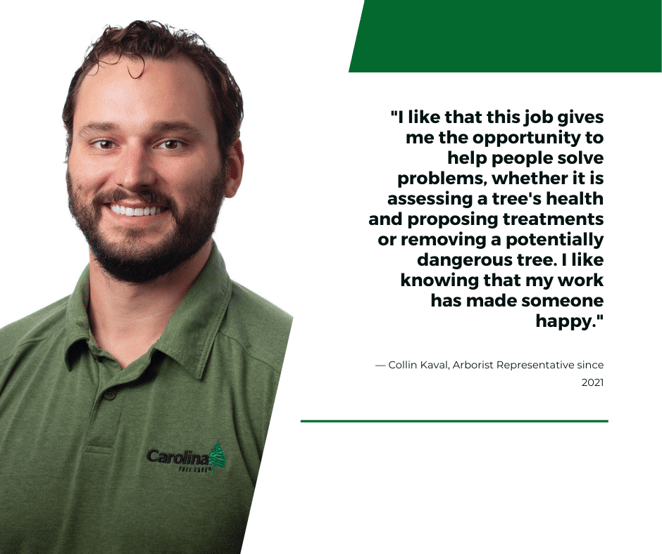 Collin spent about a year developing his skills as a Carolina Tree Care crew member. He became an arborist representative in May of this year. He now handles sales for homeowners and commercial property owners in the Concord, NC area.
Collin assesses tree health, educates clients, and proposes treatments. He enjoys the fact that his work gives him the chance to solve problems, which makes people happy.
His goal is to become an expert in the field and use his knowledge to make a positive impact on the community.
Collin was raised in Syracuse, NY. After earning his degree, he worked in New York City for about three years before moving to Charlotte in 2017 for a change of scenery and to be closer to family.
When he's not advising clients on the best way to treat and maintain their trees, Collin is taking pictures out in nature, watching football, cooking, playing board games, or listening to live music. He also still loves caring for bonsai trees. Check out his work on Instagram (@carolina_bonsai)!
Are you worried about your trees or shrubs? Collin is ready to offer the guidance you need. Get in touch with him now at collin.kaval@carolinatree.com.
---
Like what you just read?
Then you'll love this: Get to Know Stephen Mosko, Division Manager