Trees provide beauty and shade to any property in Concord, Charlotte, and beyond, They can also add more privacy to your property and help you save energy. Who wouldn't want trees in their yard?
You don't have to wait until spring to plant new tree saplings. In fact, fall is sometimes a better time of year to plant trees. We'll tell you why, but first, let's talk about why spring may not be the best time for your new trees to take root.
April showers bring... soil that's unstable for tree planting
We all know how much it rains in the springtime in the Charlotte, NC area. All that rain can lead to oversaturated soil, which can make it difficult to plant your tree saplings properly.
Then, because of the hot, dry summer that can follow a wet spring, your new saplings may become stressed if not cared for in the right way. You'll know your sapling is stressed when you see scorched leaves and slow growth.
Plant your new tree while the leaves are falling
On the flip side, planting new trees in the fall could be your best chance at success. Like spring, fall has cooler temperatures, which is great for a new sapling trying to retain as much water as possible to help with its growth.
Since your new trees will presumably have plenty of water from fall rains, they can spend more energy producing strong roots. Even if it doesn't look like your tree is growing much above the soil as temperatures cool, the roots will keep developing until the soil temperatures drops below 40 degrees Fahrenheit.
Those well-established roots are an important part of setting the foundation for a growth spurt come spring.
You may be asking yourself, "Won't the winter freeze kill my baby tree?" That little tree is stronger than you think. Trees go dormant in the winter, meaning their growth, energy consumption, and metabolism slow down. As long as the sapling was planted and watered properly (and healthy to begin with), your young tree should resume its growth in the spring.
And unlike trees planted in the spring, trees planted before winter have the fall and spring seasons to grow and establish their roots before a harsh summer sets in.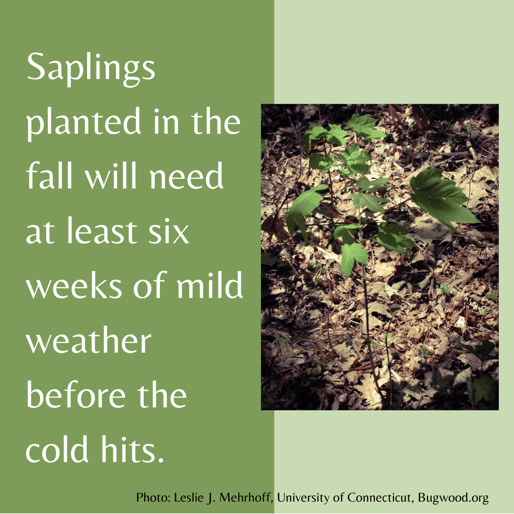 Tips for fall planting
If you decide to plant new tree saplings in the fall, there are a few things you can do to boost your tree's chances of success:
Don't wait too long.

Your new trees should get at least six weeks of mild weather before the cold comes so that roots can start establishing a good structure.



Go with a deciduous tree.

Instead of an evergreen, plant an elm, maple, linden, or hawthorn. Most deciduous trees tend to do well when planted in the fall.



Inspect your tree before buying.

Make sure the sapling has a good structure, there are no signs of disease, and there are no broken or dead branches.



Give your new tree some TLC after planting.

Your new tree will need a thorough watering at least once a week. If the season is particularly dry, you may need to water it yourself until the ground freezes.
Want more tree care tips? Make this blog post your next read: The Do's and Don'ts of DIY Tree Care.
---