The fall season isn't too far away, but it seems warmer temperatures may be! Protect evergreens, shrubs, and trees from warm weather insects. The ArborWISE by Carolina Tree Care program tailors each foliar treatment to specifically meet the needs of your plants. Our late summer foliar treatment treats directly through the leaves.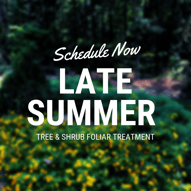 Late Summer Foliar Treatment Protects Against: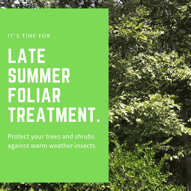 Check out the tree bugs page for more information. Let us care for the health of your trees and shrubs as we transition from summer to fall. Schedule your late summer foliar treatment today.